Peter Linebaugh Speaks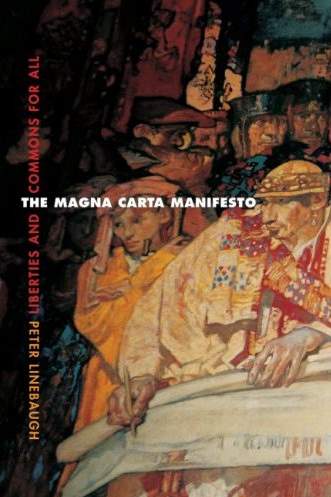 As well as speaking on Sunday 9 November at SOAS in central London at the
Historical Materialism conference
,
Peter Linebaugh
is also talking on 'The Invisibility of the Commons'
at Goldsmiths College in London on Tuesday 11 November. Organised by the Xenos Research Group, Department of Sociology, and the Department of Anthropology 5.00pm - 7.00pm, Tuesday, 11 November 2008 Lecture Theatre, Ben Pimlott Building, Goldsmiths, University of London, Lewisham Way, London SE14 6NW
If you wish to attend please contact Alberto Toscano: xenos@gold.ac.uk
Peter Linebaugh is Professor of History at the University of Toledo.
He is the author of
The London Hanged: Crime and Civil Society in the
Eighteenth Century
and coauthor (with Marcus Rediker) of
Many-Headed Hydra: The Hidden History of the Revolutionary Atlantic
.
From reviews of
The Magna Carta Manifesto
(2008):
"This is an original, powerful and ground breaking book. It is utterly fascinating and charts a path that gives me, and will give others, hope for a better future. Linebaugh sends an important message to a world that increasingly believes that private ownership of our resources can make us more prosperous. As we struggle to regain lost liberty The Magna Carta Manifesto makes us understand that freedom is about guaranteeing the economic and social rights that allow all of us to partake of political freedom."
- Michael Ratner, President of the Center for Constitutional Rights
"Ideas can be beautiful too, and the ideas Peter Linebaugh provokes and maps in this history of liberty are dazzling, reminders of what we have been and who we could be. In this remarkable small book, he traces one path of liberty back to the forests and the economic independence they represented for medieval Britons, another path to recent revolutionaries, another to the Bush Administration's assaults on habeas corpus, the Constitution, and liberty and he links the human rights charter that Magna Carta represented to the less-known Forest Charter, drawing a missing link between ecological and social well-being."
--Rebecca Solnit, author of
Storming the Gates of Paradise
"There is not a more important historian living today. Period."
- Robin D.G. Kelley, author of
Freedom Dreams: The Black Radical Imagination
"Ranging across the centuries, and from England to Asia, Africa and theAmericas, Peter Linebaugh shows us the contested history of Magna Carta--how the liberties it invoked were secured and (as today) violated, and how generations of ordinary men and women tried to revive the idea of the commons in the hope of building a better world."
Eric Foner, author of
The Story of American Freedom
Edited to add:
The Magna Carta Manifesto book launch
With: Peter Linebaugh
When: 8.30pm, 11 November, 2008
Where: Upstairs at the Tipperary pub, Fleet St, London, EC4
Admission: Free /
All welcome
Event 1: Forever Blowing Bubbles?
A walking tour and talk in the City of London, taking in landmarks of capitalist crisis past and present - organised by
Mute magazine
(Writer) Fabian Tompsett and (Historian) Peter Linebaugh will guide a tour around the City relating the contemporary financial crisis to those of previous eras (such as the 1720 South Sea Bubble), using the urban fabric as text.
When: 3-5pm, 12th November, 2008
Where: Meet 3pm at front entrance to the Royal Exchange, Threadneedle Street, London EC1
Nearest Tube: Bank
Admission: Free / All welcome
Related Talk
Radical historian Peter Linebaugh will give a talk related to the walking tour.
When: 6pm, 12th November, 2008
Where: The Rising Sun (upstairs), 61 Carter Lane, Fleet Street EC4
Admission: Free / All welcome