More John Bull-shit from the Brownshirts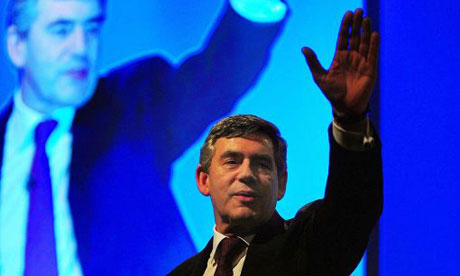 Under the banner slogan 'New Labour Your Britain', the spring conference of the National Socialist British Labour Party saw the Great Leader
Gordon Brown
get a standing ovation from the assorted NSDLP members, known by some as the 'Brown Shirts'. 'I know these last few months haven't been the easiest' Brown told supporters. 'I have heard the worries. Worries about jobs going overseas, about the sorts of jobs our kids will get when they grow up and about how our communities are changing, and how the British way of life is under threat.' Playing the
race card
in such a brazen fashion during a period of economic uncertainty seemed to go down well with supporters, as did the announcement of a
British Trust Fund
designed to scapegoat migrant workers in a racist fashion by charging them to use the National Health Service and other public services. Along with the ever popular slogan
'British Jobs for British Workers'
, this policy announcement was possibly stolen from the NSDLP's rival far-right party in British politics - the British Nazi Party (BNP).
Brown stressed the importance of
Britishness
as a value, though as usual he played it safe by refusing to spell out what exactly constituted 'Britishness' and the 'British way of life'. However it was made clear to delegates that not being 'British' or worse still, being 'anti-British' was a Very Bad Thing and could incure not only penalties but punishments. 'Being a British citizen is about more than a test, more than a ceremony; it's a kind of contract between the citizen and the country involving rights but also involving responsibilities that will protect and enhance the British way of life.' To more cheers from the assorted Party members,
Brown
concluded 'Let us have confidence that our values are the values of the British people, and confidence that what we stand for is what the British people want for the future of this country. Let us go out and meet that challenge together'.
Labels: Britishness, Gordon Brown, New Labour, race